The Pair Of Yamaha XT500's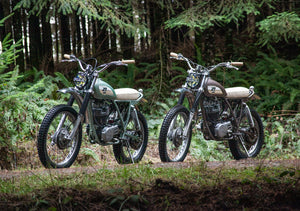 Interview by Taylor Brown of BikeBound.com
Photography by Seth Neefus and Casey Neefus
March 1, 2019
TB: Please tell us a bit about yourself, your history with motorcycles, and your workshop.
RCC: We are Red Clouds Collective, we make clothing, bags and accessories inspired by our daily lives in the Pacific Northwest. We use durable materials to create timeless pieces. We are a small family business, with myself Seth Neefus and my brother Casey Neefus as the designers and makers behind everything put out. We also build motorcycles for fun when we aren't busy making waxed canvas clothing and leather goods.
We have always loved riding motorcycles in the dirt and on the street and when it comes to the vibe of a bike, we love the look of vintage dirt bikes, desert sleds and anything that you can catch some air on or take to the woods. About 15 years ago, when Casey was 17 he bought a pile of Honda cb350's and built 3 bikes from all of the parts with a friend.  As the years went on his love for vintage motorcycles grew and I soon took note to the fun times Casey was having wrenching and riding bikes. There was always a love for the dirt mixed with the need to ride on the road for both of us. We took a liking to vintage enduro bikes, old triumphs and even modern dirt bikes and have spent the last decade buying old bikes, fixing them, riding them and making them look the way we wanted them to be. Many years ago, Casey was working on a 1973 Triumph build and we put that in the One Moto Show. The experience opened up a whole new world of purpose behind our motorcycle projects and it gave us a reason to finish them to a higher level of perfection, pushing our craftsmanship to build something that was presentable to the public. No matter what we are building we plan on getting it dirty, but it is nice to have a small window of time when we can show off all of our hard work and let the bikes shine.
TB: What's the make, model, and year of the bike?
RCC: 1978 Yamaha XT500 and 1981 Yamaha XT500
TB: Why was this bike built? (Customer project, company promotion, personal, etc.)
RCC: Originally we wanted to build an XT500 with a minimal look and just keep it fun and functional, but when we started stripping the bike down and got a feel for the direction we decided that we both needed to build an XT500 so we can ride them together and we thought building 2 bikes at the same time wouldn't be too much more work. Well it definitely was a lot more work for most of the process, but it did save time with certain things like making custom brackets, ordering parts, etc.
TB: What was the design concept and what influenced the build?
RCC: We love vintage motocross bikes, but we also love riding around Portland and the surrounding forests full of logging roads and single track. We just wanted to build two great looking thumpers that looked as cool as possible and were a blast to ride.
We wanted to build 2 motorcycles that were the same, but different at the same time. Kind of like brothers, we are from the same parents, but we look different and live different lives. We both enjoy the same sort of riding and want to be take similar adventures so we didn't want the bike to perform differently so we decided that when it came to the color schemes we would choose different colors that compliment each others bikes and use a unifying color to tie them together.
TB:What custom work was done to the bike?
RCC: With a slim, light dirt bike as the motorcycle we want to ride and an awesome 70's yamaha bike as the look we wanted to work off of we started by removing everything that was not necessary and seeing if we could make some other tank options work. With a little effort we modified some tanks to securely mount onto the frame. We cut about 5 inches off of the rear end of the bike and found some old Wassel fenders that had the right look. The rear fenders worked pretty seamlessly, but we wanted to add a front fender rack to the front fenders so we could strap a tool roll to it while on the trails. We designed and fabricated the rack and mounted it nice and high right under the headlight. We wanted to make these bikes trail worthy and keep the look of an aggressive vintage yamaha dirt bike. The Piaa headlights added so much light to the situation and cut down on a lot of front end weight and bulk. We converted the 6v electrical system to 12v and eliminated the battery. We also used the Mikuni VM36mm Carburetor and a K&N Air filter. We shaped fiberglass seat pans and made some custom antique white leather seats and found matching biltwell grips for our Red Clouds Collective x One Down Four Up Stainless Steel Bars. There is a huge XT500 community out there, but it is hard to find aftermarket parts for the style that we were going for and everything out there is really expensive so we ended up making our own custom foot pegs that are about 2" wide and pretty much every other mount and bracket on the bike to make all of our desired parts and components work.
After all of the customs brackets and mounts were made we disassembled the motorcycles and cut off all of the tabs and mounts that we didn't need anymore and then started working on the motors. We did a complete top end rebuild and stripped years of wear and chipped black paint from the entire motor. We set up a vapor honing cabinet and spent countless hours blasting everything to a factory finish. We had the freshly powder coated frames and tanks back just in time for when we finished cleaning and vapor blasting everything else. We were so excited to see these badass XT's come back to life in such different colors from the original. By the end of that day we had both bikes sitting on their wheels and we could now see the vision start to take shape. At this point we didn't know we were going to make antique white leather seats or what our tank graphics would be. We just wanted to see the two bikes with all of their freshly cleaned and polished parts that we worked so hard on to bring back to life. As we reassembled the motorcycles we talked endlessly about colors and graphic ideas and even developed ideas working off of a photo in photoshop. We didn't want the stock artwork, but we wanted something with the same vibe and to figure out some colors that would work for both motorcycles. After the motors were in we decided on the seat color, finalized the tank graphics, wired the electrical system, put the chains on and showed up at the One Moto Show in Portland with no time to spare.
TB: Does the bike have a nickname? 
RCC: Recently they have been called Forrest Thump, the Red Clouds Twin XT500's. We call them "My Bike and Your Bike" when we are talking about them.
TB: How would you classify this bike? (Cafe racer, street tracker, scrambler, brat, bobber, streetfighter, restomod, etc.)
RCC: Vintage enduro bike / classic thumper with a Red Clouds Collective vibe
TB: Was there anything done during this build that you are particularly proud of?
RCC: The best part was building motorcycles side by side as brothers. It is a very satisfying feeling to see these motorcycles finished, they actually look and feel like brothers. These bikes are just so much fun and they are even more fun riding them together.
Year, Make and Model:
1989 Honda XR250
Read the Bikebound.com Story Here and check out the Pipeburn.com article: Here