RCC x Dieta Skateboards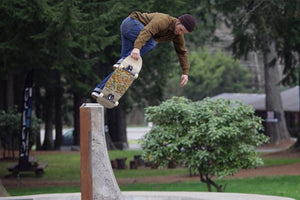 We teamed up with Dieta Skateboards, a Portland based company, for a special collaboration.

Dieta Skateboards is a company that puts aside the stereotypical ideas in the skateboarding industry and focuses on what is most important to them; friends, family, and having a good time. They work for what they have and enjoy it to the fullest. 




Made in America by Dieta Skateboards Dimensions: W: 8.75", L: 32", Wheelbase: 14" Artwork by Red Clouds Collective member David Wien. Limited Edition of 100.

Red Clouds Collective member David Wien is a painter, sculptor, musician, skater, and surfer. His work finds its groove in condensed color blocks and abstracted figures, evoking Picasso and Matisse with the sway of modern design. He began exhibiting art in public spaces more than a decade ago. Now in the remote reaches of Redwood country, he is pursuing a life centered around his art practice.