ANTI-PROFIT MACHINE 03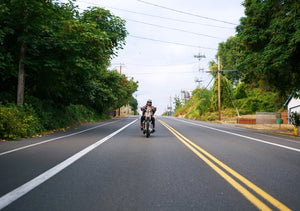 Anti-Profit Machine: Journal Entry 03

Drop a bait mackerel/magneto.
Add lime, thick salt, almost discarded hot sauce strained offal chile powders, tequila to make the in-town passing happen naturally.
Prepare some scavengers of the deep and the not so deep, gun metal and industrial nickel plating accented by crusty chrome on the Weber.
Uncle Bob's Magical Elixir of Life.
Yes, high heat, close to the coal.
This and more from the dregs of an odd swap meet corner stolen recycling bin.
Charred shells are edible.
One Moto Show 2021 Best Chopper.
One of the most thoughtfully and well built custom bikes I have ever seen. 
Clean with personality pouring over.
Read the build sheet.
Hats for this occasion and every shrimp-a-que that has been or ever will be. Click here to purchase.
For More Information About Adam Baumker Click Here 
Follow Adam on Instagram @haggard_is_lord
Music By Adam Baumker
Video camera car driving by @brianoakley