A Conversation With Mark Warren Jacques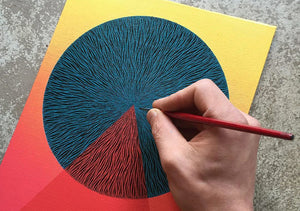 RCC: Can you tell us about you and your studio or the place you like to make your artwork most?
MWJ: I am a human, X and Y chromosome carrier, artist, life-liver, 36 rotations around the sun. 
The studio is a place to make art, but can be anywhere I am. I like most to make art in places that have nice natural light and smell good, but not necessary. Stinky basements with shit light can work in a pinch too. I don't require a traditional studio or art-making space and often enjoy the challenges of figuring out how to make it work and finding inspiration anywhere. 


RCC: How would you describe your art to someone who has never seen it?
MWJ: Optimistically injected human-made abstractions of life on Earth. 

RCC: What was the first experience that made you want to pursue your art?
MWJ: 
Child stuff : having fun with messy paint hands, carelessly expressing myself with colors and shapes, eating paper that I colored with scented markers, and being convinced it was as good as real food (true story). Grown-up stuff : trading art for real food, shelter, confidence, a beautiful gold watch... That's the selfish stuff... the outside of self stuff : seeing a connection, happiness, and even healing and emotional response to an artwork from an audience.
RCC: Most memorable art show, and what made the experience?
MWJ: First solo show in San Francisco at White Walls Gallery. I exhausted myself so much physically and mentally preparing for the exhibition that I fell asleep at the opening reception inside the installation I built for the show and peed my pants in my delusional state. Delighted and horrified at the same time when I woke up in my friend's arms to find that all of my paintings had found little red dots and new homes (representing future food, shelter, and a general sense of a job well done). 


RCC: Things that fuel your creativity? What inspires you?
MWJ: Waking up, looking around. 
Feelings, other humans, nature. 
Flying through the air on a snowboard, skateboard or dirt bike and at the arc of flight becoming weightless. 
Pushing past physical or spiritual boundaries to find out that quite literally anything can be possible even if we don't initially think it is - just by doing. 
When a live band is "in the pocket" and the sound vibrates your soul. 


RCC: You have been painting a lot of murals recently, what do you like most about working large scale?
MWJ: The large size and no barriers for public access, no ego, no noses in the air.. no price tag for entry, just image, interpretation, and a subtle reminder that art is everywhere if you open your mind and look around for it. 


RCC: Can you walk us through the process of creating a mural like "California Beaming"?
MWJ: Get a call, have some meetings, fly a friend in from another place to help. Buy a bunch of paint, rent some machines to go up high, laugh at friend for being scared of heights, fill in some colors, make a bunch of lines that go from thin to thick back to thin, take some pictures of the finished piece, go skateboarding. 

RCC: Any tools of the trade you can't live without?
I use the Red Clouds Collective tool roll a lot for my brushes. Also, an open mind and a relentless drive to continue. 


RCC: What do you hope to capture and share through your artwork?
MWJ: I've found that my job is to look around and make work. The goal-story-point-interpretation - that's up to the viewer in the end. My only hope is that I will stay alive forever somehow and that in that time I don't ever give in to the idea that I "need" to do something else for food or shelter. Making and sharing art is my job and my life path through which I want to live forever. 

RCC: What do you do when you're not making art?
MWJ: I like to spread out and look around, try to find ways to live and be happy in the moment so that I can come back to the proverbial canvas and create. 


RCC: Current or Future projects that you're excited about?
MWJ: I'm just happy to be alive and that I get to wake up each day with eyes for looking, a heart for feeling, and hands for making. Project : live happily ever after :)