RCC x See See x Danner Boots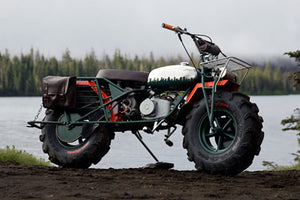 Danner's Fall 2014 Stumptown collection gets a bashing courtesy of Oregon's See See Motorcycles. Taking out a selection of hiking and casual boots including a collaboration with wings + horns, the popular Mountain Light in fresh colors and women's fits, the gang catch "misty mountaintop views from the PCT and defy gravity over the dusty Oregon dunes." With all kinds of impressive motorcycles flips and tricks, a custom-made, two-wheel-drive motorcycle on hand, "Miles from Nowhere" gets the Danner line dirty. 

We had the pleasure of designing some saddle bags for See See Motorcycles' two-wheel-drive bike.