Curb Cut Interview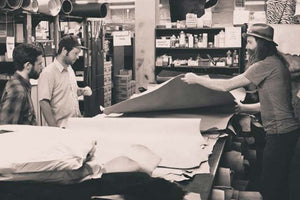 Workwear might be all the rage and the term "handcrafted" a total marketing buzzword, but this Portland-based art collective and apparel/accesory brand is the real deal. What started as a dozen dirt-bag skaters doing art together turned into a happening business that makes rugged clothes, leather goods, and other utilitarian gear. A lot of creativity—but also a lot of learning—went into building
Red Clouds Collective
. Quality, style, and longevity are their golden standards, product-wise. "We hope to open the eyes of a younger audience to appreciating a well-constructed product with materials that last," says Co-Founder Seth Neefus. 
With that said, these guys put a ton of time, expertise, and love into their line—which includes an ongoing collaboration with
Dieta Skateboards
. "Our whole idea behind Dieta was the working-class skater," says Dieta's Johnny Turgesen. "When we went to the Red Clouds workshop and looked around, it just fit perfectly with that." We sat down with RCC Co-Founder Seth Neefus and talked shop—including ways the term "hand-made" has been coopted by the industry and what being a business owner really means for your chill time.
So is the world of young skaters and dirts like us ready to pay for hand-made products when they can get the cheap stuff at H&M or whatever? 
The level of awareness about quality is on the rise. We hope to open the eyes of a younger audience to appreciating a well-constructed product with materials that last.
Everyone here comes from the age of saving up money to buy a skateboard, so we understand that your money is earned by hard work. We want to make our customers' money well spent. As much as you can buy a backpack for $30, you also get what you pay for.


Real talk: does running a business take over your life so you can't do the stuff you like to do anymore?
It's funny, because in some ways I only do the things I like to do—but there're times when I wish I could just hop in a van and take a road trip. I have all of these responsibilities now, so I have to plan that stuff a little more. The best thing now is making those fun trips turn into something productive—an excuse to shoot photos or whatever. It all just turns into a way to bring everyone together and really make the most of those times instead of taking life for granted.


On their process and the term "hand made": We make everything in house, but we do use industrial sewing machines and things to make our jobs more efficient and the products last longer. The word handmade is a bit overused these days and can be misleading, but what it has been representing is that something isn't factory made on an assembly line and that it's made with care by a craftsman. Or at least that's how I like to think about it. But there are definitely companies out there claiming handmade and it's a factory for sure—it just happens to have been made in the U.S.A. The process is something that really gives you a gratifying feeling, we started with rolls of fabric and raw leather and from there we go through so many steps to get to the final product. A bag might take a few hours to sew, but there's a lot of work cutting the leather, dying it, and cutting out the patterns.
How'd the Dieta collab come about?
Those guys contacted us when they were starting out. They wanted to work with some local craftsman to bring some of that energy into the skate industry—something the older skaters could relate to. We made some leather patches with them in our shop for their hats and for our magnetic koozies. We did it all together—bought the leather, cut it, dyed it, and stamped the logos into it. It was a fun day in the workshop!


On the origins of the name Red Clouds: This all started as a group of friends making art and living together around 2005 or so—back when Portland seemed much smaller than it does today. "Red Clouds" was what we called ourselves as we did the things we did in our early 20s—ride bikes to parties, skate all day and night, and drink beer while painting and making things. It was just a group of friends connecting on this creative level and sharing tons of fun times together.