A Conversation with Frank Faria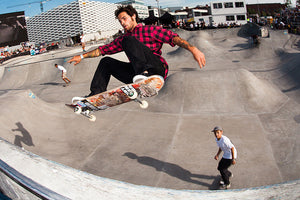 Our friends over at Dieta Skateboards just put out this amazing vid. We sat down with skateboarder Frank Faria to talk a little bit about the video and what he has been up to. Enjoy!  


RCC: Where did the title Bom Dias come from?

FF: I came up with the name Bom Dias, my dad's side of the family is from the Azores Islands which is a part of Portugal. In Portuguese it means good days. 


RCC: One thing that we thought was really cool about the video was that there are not any individual parts, like its the whole crew skating together the whole time, was that the plan when you started filming or did that just sort of happen?

FF: Johnny and I had a concept in mind in which the video would have lots of flow to it, no breaks really, just back to back skating. The ideas grew as time went on, and having our good friend Justin Shreeve there to work with was awesome. Its really easy to go out with your friends and just have a great session. At the end of the day there would be some great skating and we had lots of fun doing it.

Photograph by Christian Wiedel

RCC: I don't recall a single handrail shot, which is kinda weird for a new skateboard video. Was there a "no handrail rule" in this one, haha?
FF: You are the first person to ask me that haha! No, there was not a "no handrail rule" but you might want to check 4:27min in the vid. 


RCC: Haha, yeah one proper CAVEMAN!.. You've been at it for a long time now, does skateboarding in general feel the same to you as it did when you where coming up?

FF: The feeling of skateboarding has not changed for me, its always going to be pure fun. To this day it is still the most important thing that I've grown to love. 



Photograph by Anders Chippen Andrén

RCC: 5 things you can't live without?

FF: Family/Friends, Home cooked food, Making music, Traveling, Water 

RCC: What does the future hold for you?
FF: Working, skating and living it up here in Portland the next couple months. Then going to Sweden and Denmark late July to roam around for a few weeks to skate and see some friends.