Anti-Profit Machine 02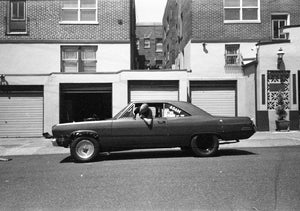 Anti-Profit Machine: Journal Entry 02


Steve and Ben don't know each other.
I don't see any connection between Chopin and Muscle/Drag cars.
I thought the bust of him would look good as a dash ornament and his music could play well with hot rod footage. I thought Ben could make an interesting and unique soundtrack to footage of Steve's interesting and unique car, and mannerisms.
This is that.
Filmed over 2 days in late May 2021.
Anti Profit Machine Video No. 1
Steve has been building, tweaking, tuning, and racing the scamp for seven years.
Here is his quick diagram/explanation of tech cards:
His next/new project is a '23 Model T.
Ben is a musical savant. Whether entertaining people with casual piano meanderings during social gatherings or going deep to create original scores for film and video he is the person I would most want at that musical helm.
Hear more of his work and see some of what he is capable of at bendavidcarey.com
Anti-Profit Machine: Journal Entry 02 by Taylor Brubaker.
Follow On Instagram: