SCREAMING CLASSIC: 1979 Yamaha YZ250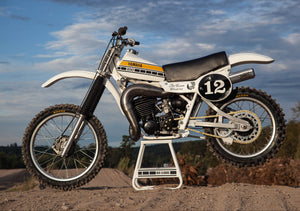 Interview by Andrew Jones of Pipeburn.com
Photography by Seth Neefus and Casey Neefus
September 16th, 2020
AJ: Tell us the latest about you/your shop.
RCC: My name is Seth Neefus and my brother Casey and I run a brand called Red Clouds Collective. We make waxed canvas clothing, selvage denim pants and shirts and a variety of leather bags and wallets. Most of it is motorcycle and workwear inspired and everything is made in the USA. We just moved into a new Portland location which allows for us to manufacture all of our waxed canvas and leather products as well as it has enough space for us to setup a fabrication shop for welding, blast cabinets, etc. We really enjoyed building motorcycles in our home garages, but we are really excited to be able to build motorcycles in a dedicated space without all of the other project in the way.
AJ: What style of motorbike is it? (cafe? scrambler? other?)
RCC: Vintage Dirt Bike for racing vintage motocross.
AJ: What make, model and year of motorbike is it?
RCC: 1979 Yamaha YZ250

AJ: Do you have a name for the motorbike?
RCC: We don't have a name yet, but you guys always seem to come up with good names for our builds. I am excited to see what you call it in the writeup. Hurricane Bob Hannah put this bike on the map and his wild riding style always caught our attention.


AJ: Where did you find the motorbike?
RCC: We found the bike in Idaho from a guy who races the Vintage Motocross Series in the North West. Him and a friend cleaned it up and got it running and then put it up for sale.
AJ: What was your inspiration for the build? 
RCC: Well, we all went down to a Vintage Motocross track near Bend, Oregon called High Desert MX and we only brought our trail riding dirt bikes because that is all that we had at the time. We did our practice laps and had huge smiles from ear to ear. The racing started and the people racing vintage bikes just made it look fun and the fact that they were on machines that were 30 or even 50 years old got us really inspired. We love working on vintage motorcycles and riding them on the street so why not have a beautiful old thing to race around the track? Well it was our turn to race and there must have been 30 or 40 people in our heat; the only thing to do was try to get in front as fast as possible. It worked and after the first turn Casey and I were both in the head of the pack and we just had to maintain our positions for the 4 laps on this 1 mile long dusty track. It was a workout and my mouth has never been so dry, but I couldn't stop smiling the whole time.
After our few races and finishing 4th and 7th out of all of these people we felt pretty good about the experience and drove late into the night back to Portland, Oregon. We talked about the vintage motocross bikes and racers that have always inspired us and decided we were getting some vintage motocross bikes and going to start racing the Pacific Northwest Vintage Motocross series, but first we needed to practice a lot and have some fun on the local tracks. I ended up finding an 1978 Yamaha YZ125 and loved how light and quick it was, but Casey really wanted the 1979 Honda CR250 Elsinore, but it turns out those are really hard to find. One day this 1979 Yamaha YZ250 came up for sale and we decided to go take a look. The bike was located in Idaho, but the guy was willing to meet us halfway. So we met him in Pendleton, Oregon and gave the bike a quick test ride and I have never seen Casey smile that big and look that scared at the same time. It was a light and extremely powerful bike and we took it home with us back to Portland. After riding the local vintage motocross tracks all summer and into the fall it was time to give the bike a little love. We started to research what the Factory Works Bikes looked like from that era and saw the metal gas tank and a much more unique machine compared to this plastic yellow thing we were destroying on the weekends. We came up with some designs based on these bikes and some other color options, but wanted to stay true to the vibe of the late 1970's Yamaha look.
AJ: Can you run us through the build process? 
RCC: We started by taking off all of the Yellow. Since it was a heavily used and abused 2 stroke dirt bike from 1979 it had a lot of wear and tear. Mud that was decades old was crammed into every single opening of this bike and layers were covering every bolt. We pressure washed, sprayed down with simple green, scrubbed with scotch brite pads and finally we were able to dissemble the motorcycle without getting any dirt into the engine. We vapor blasted just about every piece of the motorcycle as well as sandblasted and powder coated the frame.
We found a rusty and dented stainless steel tank on ebay that was for a different year YZ250, but we were able to make new mounting brackets to securely fasten the tank to the frame. We had to spend too many hours fixing dents, and getting the tank smooth for primer and paint. I primed and painted the tank in my paint booth and I couldn't have been happier after putting a few coats of clear on it. It was better than I could have imagined. We added the rest of our customizations and graphics to the remaining body pieces and modified everything to fit properly and work as it should. We added a new DG header pipe and silencer, and it was finally ready to race!
AJ: What was the hardest part of the build? 
RCC: Honestly, the hardest part was waiting to get out and cover it in mud before we had a chance to shoot photos of it.
AJ: What do you like best about the finished motorbike? 
RCC: It could have come off the Yamaha factory floor in 1979 looking this way, but we all know how it actually came; bright yellow and lots of plastic. We love the iconic Yamaha yellow, but when we have creative control over something we are going to make it subtle and loud at the same time, we want the overall look and feel to set the tone and the details to do the talking.
Year, Make and Model:
1979 Yamaha YZ250
Read the complete Pipeburn.com article: Here