Anti-Profit Machines by Taylor Brubaker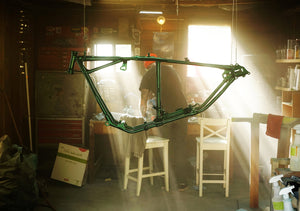 Anti-Profit Machines: Journal Entry 01

Big fucking boats. The practical use of the things is so obvious yet unimaginable. A large steerable package for moving the stuff of our consumption. A piece of equipment that somebody or some group of people own and operate for business and profit. All function, ships. A tight operation of logs, spreadsheets, expediently adhered to maps, and hierarchy. As grateful as I am that these behemoths and their smaller counterparts help us get that which makes life so convenient and complicated, I'm more grateful for the machines that balance out the weight of the world for so many of us.
The Anti-Profit Machines. These machines are owned and operated by one person (for the most part) for the sole purpose of giving that person the freedom to breathe fresh air literally and figuratively on their own terms. Not recently rolled off the floor of a dealership but haggled for in a driveway somewhere and paid for with cash, usually most of what the purchaser has. It is rare that it is put to regular use before the personalization starts. ­This object on which to move themselves for whatever reason and to express themselves creatively and mechanically. They stand out as much or more than a ship or a big truck not for their physical size but because they are mechanical manifestations of some impractical idealistic vision.
It is not inherently important that these machines have organized records, it would almost go against the whole idea. Memories made and held dear are the currency of these machines, and photographs are additional.
Because the experience is the priority for the participants in these machine's existence I feel some responsibility to offer to photograph the personalization and use of the machines. It is for my own appreciation of them and hopefully appreciated by those looking. A small record in a world where perfect record keeping, accounting, and inventory are out of mind.
This first set of photos is motorcycles leading up to their being displayed in the 12th annual 1moto show.
Casey Henderson's 1971 Yamaha DT2
Brian Oakley's 1968 Shovelhead Chopper
Seth Neefus' 1965 Triumph Tiger Cub
Adam Baumker's 1973 Shovelhead Chopper

Photographs in order of appearance:
Casey Henderson's 1971 Yamaha DT2
Brian Oakley's 1968 Shovelhead Chopper
Seth Neefus' 1965 Triumph Tiger Cub
Adam Baumker's 1973 Shovelhead Chopper