The Making Of The High Noon Hat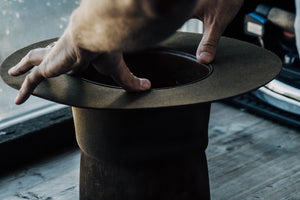 The High Noon Hat is proudly made in collaboration with Folklore Hat Company. The design draws inspiration from the old days of the wild west and we shaped it into what we feel is the perfect hat with extra attention added to details. Our good friend Pierre Robichaud stopped by the Folklore shop to document some of the steps involved in the making of The High NoonHat.
Here is the Goldsmith hot foil machine stamping sweatbands with the Red Clouds Collective seal of approval. One of the many steps in making a high quality custom hat.
After they are hot foiled and prepped, every sweatband is tediously hand stitched, using age old techniques that lock the sweatbands in place while never exposing your stitches. 
Every hat is hand creased using steam to open the fibers of the felt, allowing the hat to be pinched and set into its final shape as the felt is cooled. 

More about Folklore Hat Company:
Website: www.thisisfolklore.com 
Instagram: @thisisfolklore
Photography by Pierre Robichaud
Website: www.pierrerobichaud.com
Instagram: @pierrerobichaudphoto